Free continental US shipping for all orders above $100!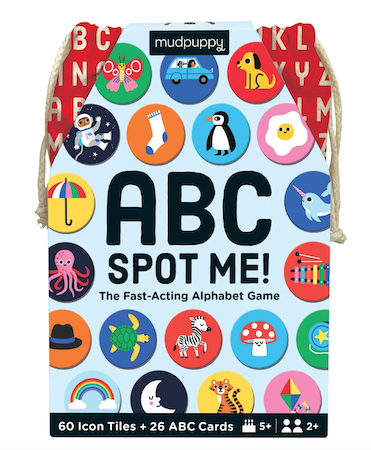 ABC Spot Me Game
This is one of the few games we've seen that's appropriate for beginning spellers.  It helps emerging readers match phonetic sounds to letters and is simple but fun and fast-paced.
The set-up is straightforward: place 60 icon tiles (tiles with objects depicted on them) face up on the game table, within easy reach of all players.  Shuffle the 26 ABC cards and place the deck facedown. As the alphabet cards are turned over, players try to find the icon tile that begins with that letter.  The player who is the first to collect the most tiles is the winner.
This is a game that can be played several different ways and according to flexible rules; suggestions are included in the instruction booklet.
60 icon tiles, 26 ABC cards, fabric bag for easy storage, and instructions.
Ages 5 and up; 2+ players
Product SKU:
---
Related