Extended: all orders receive free continental US shipping! Expires 11 a.m. EST November 29.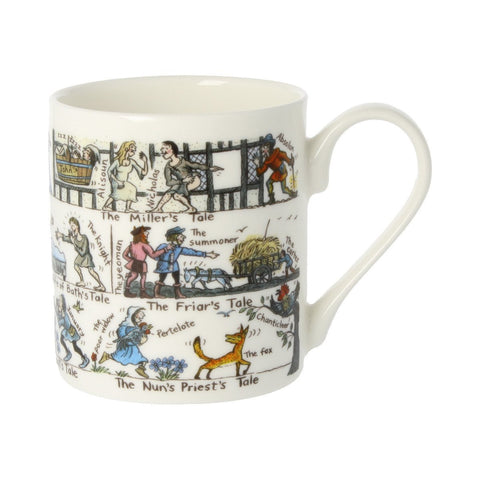 Canterbury Tales Mug
These heirloom quality bone china mugs are decorated with characters from some of The Canterbury Tales' best-loved stories, including The Knight's Tale, The Reeve's Tale, The Summoner's Tale, The Merchant's Tale, The Wife of Bath's Tale, The Miller's Tale, The Friar's Tale, and The Nun's Priest's Tale. The central characters are drawn in witty detail on the mug and are each depicted with significant details, from a chanticleer and fox to a tub and hay wagon. 

Made in Scotland, in a factory on Loch Lomond, by a family business run by a grandmother, her daughter, and granddaughter. The company tells us, "Each mug is printed and decorated in the UK by our cheery, hardworking, skilled, and experienced staff."

The company has produced bespoke bone china mugs for Orla Kiely, Paul Smith, Lulu Guiness, Vivienne Westwood, The Tate, The National Galleries, The National Trust and many schools, churches, galleries and other organizations. 

Hand wash only. Suitable for use in a microwave. 
Size: H 90mm (3.54") x D 85mm (3.34").  Capacity: 350ml (1.5 cups)
Please note: We have limited quantities of this item; if you are interested, please order sooner rather than later to avoid disappointment.
Charles Dickens Characters Mug
Time Spent Reading is Never Wasted Mug
Women Who Changed The World Mug
Product SKU:
---
Related