Extended: all orders receive free continental US shipping! Expires 11 a.m. EST November 29.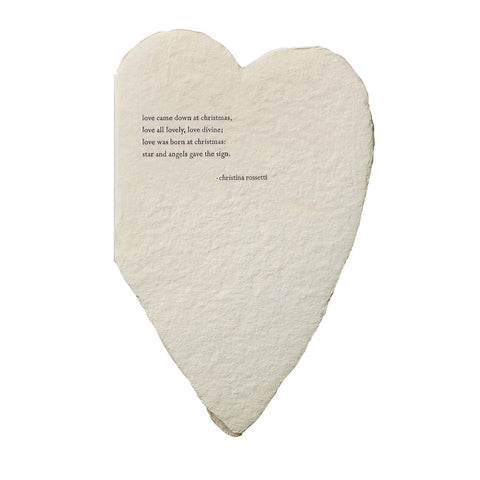 Christina Rossetti Christmas Cards
This understated and elegant Christmas card embodies the true spirit of the season. The deckle-edged paper heart is letterpress-imprinted with this verse by Christina Rossetti: 
love came down at christmas,
love all lovely, love divine;
love was born at christmas:
star and angels gave the sign.
-christina rossetti
The handmade, recycled paper is cream colored; the printing is a very dark gray. Each 3.625" x 6" folded note includes a pale gray envelope. The cards are artfully designed and printed one at a time, by hand, by a small team of Portland OR artisans. 
 The Poetry Foundation calls the English Pre-Raphaelite poet Christina Rossetti (1830-1894) one of the Victorian age's finest poets.
Box of six cards and envelopes.  Blank inside.
Product SKU:
---
Related