Orders above $100 receive free continental US shipping!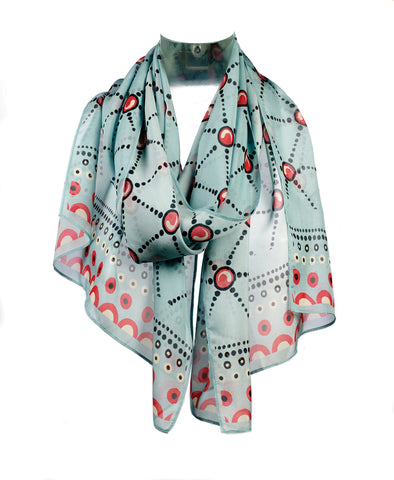 Cressida Bell Bloomsbury Silk Chiffon Scarf
"The bohemian English circle that included Virginia Woolf, Duncan Grant, and Vanessa Bell revolted against Victorian formality—and their casually ornamental style is inspiring designers today."—The New Yorker
The design on this aqua and coral silk chiffon scarf was created by the contemporary artist Cressida Bell and reflects the influence of her well-known Bloomsbury Group forebears (Quentin Bell was her father and Vanessa Bell her grandmother).  In addition to the Bells, the coterie of English writers, artists and philosophers known as the Bloomsbury Group included Vanessa's sister Virginia Woolf, Leonard Woolf, E. M. Forster, Roger Fry, Duncan Grant, and others.
The scarf is beautifully made—the hems of the scarf are hand rolled and sewn, not machine stitched. Because it is silk chiffon, it can easily be tied in a variety of ways; it is large enough to wear as a light shawl.
Cressida Bell is a British designer specializing in textiles and interiors.  From her London studio, she produces a wide range of products including accessories for men and women and objects for the home. She also undertakes the production of many bespoke items from stationery and illustration to murals, carpets, and furnishing fabrics.
Bell set up her company in 1984 on leaving the Royal College of Art.  She previously studied in the fashion department of St Martin's School of Art in its 1980s heyday.  Her work is known for its uncompromisingly decorative nature and its independence from mainstream fashion.  The influence of Bloomsbury is in the design DNA, but it is not an all-pervading one, and she has forged her own very individual style over the last three decades.
Dimensions: 68 x 21 inches.  Dry clean only.

Product SKU:
---
Related