Orders above $100 receive free continental US shipping!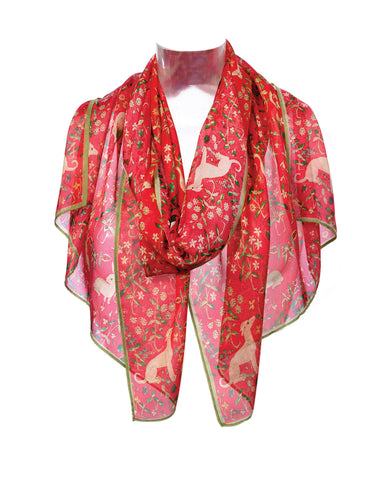 Cluny Tapestry Silk Chiffon Scarf
The design of this scarf is based on the imagery of the six Lady and Unicorn tapestries on display in the Musée de Cluny in Paris.  The tapestries, woven in Flanders from designs drawn in Paris, circa 1500, are thought to depict the five senses (the sixth is inscribed with à mon seul désir) and are thought to represent a meditation on earthly pleasures.
The hems of the scarf are hand rolled and sewn, not machine stitched.  The colors are bright and clear but, because the scarf is silk chiffon, have a certain transparency.  It is easily tied in a variety of ways and is large enough to wear as a light shawl.
Dimensions: 72 x 20 inches.   Dry clean only.
Product SKU:
---
Related