Free continental US shipping for all orders above $100!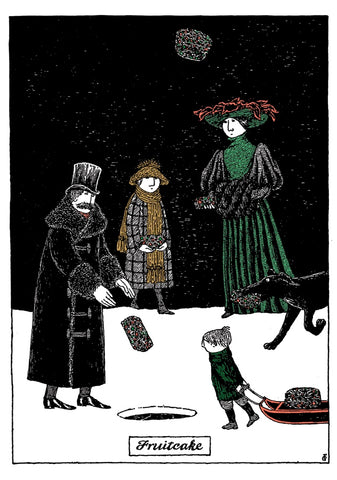 Edward Gorey Fruitcake Holiday Cards
Edward Gorey shares his recommendation for what to do with the gift of a fruitcake in this Goreyesque illustration that reflects his twinkling wit and keen eye. 
Inside message: 

Season's Greetings
Gorey (American, 1925–2000) was an artist, writer, and book designer. His drawings and stories, set in a vaguely Edwardian time frame, exhibit a special genius for what is left unseen and unsaid. Crosshatched characters and quirky narratives keep Gorey devotees in gleeful anticipation of decorous mayhem.
The creator of more than one hundred works—from a wealth of darkly hilarious books to the animated opening sequence of the PBS television series Mystery!—Gorey was a master of the amusing, the strange, and the unexpected. His artworks are collected and treasured throughout the world.
One dozen 5 x 7 inch holiday cards with 13 envelopes; Printed on recycled paper with soy-based inks.
Product SKU:
---
Related