Free continental US shipping for all orders above $100!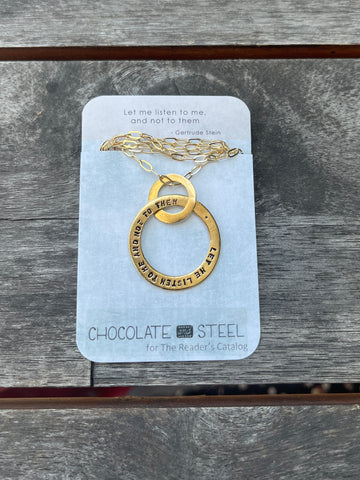 Gertrude Stein "Let Me Listen" Gold Necklace
The two thinly sliced, interlocked circles of this 14K gold vermeil necklace are stamped with the quote "Let me listen to me and not to them," from Gertrude Stein's 1932 "Stanzas in Meditation" (Stanza VII).  Lightweight, they hang from an 18-inch-long chain of oval links. The diameter of the small circle is .5" and the larger circle is 1.25".  The circles lay flat when worn.  
The designer handcrafts her jewelry collection in Southern California; the chains are also made in the USA.  Each design is sculpted out of clay, and the clay model is then cast in reclaimed metals using the ancient art of lost wax casting.
The design studio is powered by wind & solar and uses recycled paper for packaging.
According to the Poetry Foundation,  "An advocate of the avant garde, [Gertrude] Stein helped shape an artistic movement that demanded a novel form of expression and a conscious break with the past.  The Paris salon at 27 rue de Fleurus that she shared with Alice B. Toklas, her lifelong companion and secretary, became a gathering place for the "new moderns," as the talented young artists supporting this movement came to be called. Among those whose careers she helped launch were painters Henri Matisse, Juan Gris, and Pablo Picasso.  What these creators achieved in the visual arts, Stein attempted in her writing.  A bold experimenter and self-proclaimed genius, she rejected the linear, time-oriented writing characteristic of the 19th century for a spatial, process-oriented, specifically 20th-century literature."
Product SKU:
---
Related