Free continental US shipping for all orders above $100!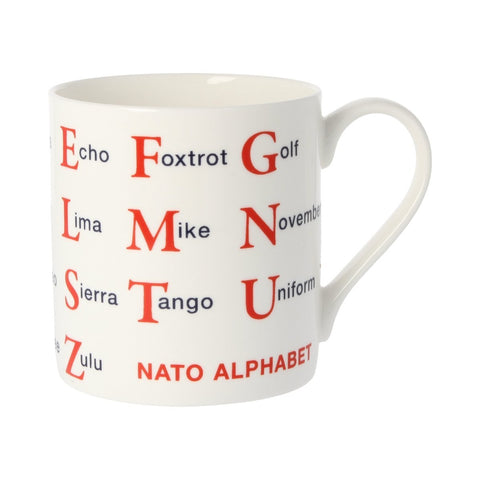 NATO Alphabet Mug
These heirloom quality bone china mugs are decorated with the NATO phonetic alphabet. According to the website of the North Atlantic Treaty Organization, the alphabet "...is useful to prevent spelling mistakes or miscommunication, especially when people from different countries with different accents and pronunciations work together. The NATO alphabet became effective in 1956 and, a few years later, turned into the established universal phonetic alphabet for all military, civilian and amateur radio communications. It assigns a word to each letter so that a letter's name begins with the letter itself." 
This mug—besides being a handsome addition to any table or desk—provides an essential tutorial for anyone who has ever struggled to be understood when spelling out a name and address over the phone. It's especially fun and useful for those who remember when this system was adopted. 
A final bit of information from NATO: "Some standards can be found in everyday civilian and military life. 'Bravo Zulu,' typically signalled with naval flags on ships at sea and meaning "well done," is also commonly used in written communication by the military, for example by replying "BZ" to an email."
Made in Scotland, in a factory on Loch Lomond, by a family business run by a grandmother, her daughter, and granddaughter. The company tells us, "Each mug is printed and decorated in the UK by our cheery, hardworking, skilled, and experienced staff."
The company has produced bespoke bone china mugs for Orla Kiely, Paul Smith, Lulu Guiness, Vivienne Westwood, The Tate, The National Galleries, The National Trust and many schools, churches, galleries and other organizations. 

Hand wash only. Suitable for use in a microwave. 
Size: H 90mm (3.54") x D 85mm (3.34").  Capacity: 350ml (1.5 cups/12 oz.)
Please note: We have limited quantities of this item; if you are interested, please order sooner rather than later to avoid disappointment.
See Also:
Charles Dickens Characters Mug
Time Spent Reading is Never Wasted Mug
Women Who Changed The World Mug
Product SKU:
---
Related