Orders above $100 receive free continental US shipping!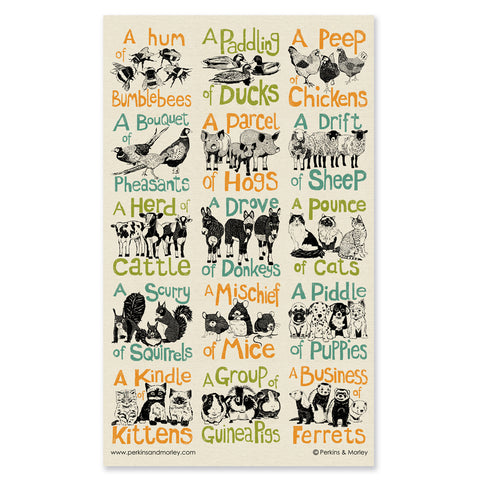 Collective Noun Animals Tea Towel #2
This is the third in what is now a series of the unique and imaginative collective noun tea towels. This newest one features a hum of bumblebees, a paddling of ducks, a piddle of puppies, a pounce of cats, a drift of sheep, and more: 15 wonderfully evocative collective nouns accompanied by illustrations by British artist Jan Morley.

Hand screened in four colors and printed on 100% unbleached cotton; finished size approx. 19" x 30"; printed in England.
Please note: We have limited quantities of this item; if you are interested, please order sooner rather than later to avoid disappointment.
See also: 
Collective Noun Animals Tea Towel
Collective Noun Birds Tea Towel
Product SKU:
---
Related