Extended: all orders receive free continental US shipping! Expires 11 a.m. EST November 29.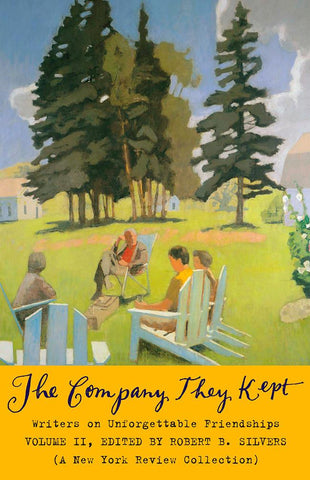 The Company They Kept, Volume Two
Twenty-seven memoirs of transforming personal and intellectual relationships among writers and artists from the pages of The New York Review of Books.
Many of the contributors to The New York Review have written about deep and abiding relationships— both personal and intellectual—with fellow poets, writers, and artists. The Company They Kept, Volume II is a collection of twenty-seven accounts of these friendships that were always stimulating, often inspiring, and sometimes vexing (as Robert Lowell writes about John Berryman: "Hyperenthusiasms made him a hot friend, and could also make him wearing to friends—one of his dearest, Delmore Schwartz, used to say no one had John's loyalty, but you liked him to live in another city").
There are historic moments—Isaiah Berlin's conversations with Boris Pasternak and Anna Akhmatova, Hector Bianciotti's account of the death of Borges—as well as lighthearted ones—Bruce Chatwin's hilarious drunken evening with George Ortiz, and Arthur Gold and Robert Fizdale's subway ride with George Balanchine ("...like a mythical guide he made the dingy steps, the sinister train, the underground arrival at the State Theater a Tiepoloesque flight into heaven").
Many of the portraits include vivid images that otherwise would have been lost forever: the poet Osip Mandelstam, whom Anna Akhmatova first glimpsed as "a thin young boy with a twig of lily-of-the-valley in his button-hole"; the young Gore Vidal in Dawn Powell's living room suddenly realizing "this is a menage a trois in Greenwich Village. My martini runs over"; twelve-year-old aspiring cartoonist John Updike writing Saul Steinberg to ask for a cartoon (Steinberg sent one, and another, nearly fifty years later, when Updike turned sixty).
Each portrait is written with feeling and fullness of heart. A sense of the intimacy and verve of the memoirs is captured in Darryl Pinckney's description of the premises of The New York Review of Books itself, from whose offices these writings were edited and in whose pages they first appeared: "Books were streaking across the ocean and galleys were zooming in from the West Coast or the East Side, nearly all by messenger, by overnight delivery, because everything was urgent, every contributor was at the center of a drama called his or her 'piece.' Incredible battles went on during press week as indescribable things rotted in the office refrigerator. Someone's laughter in the typesetting studio would provoke to fury someone doing layout next door and the storms, the slammed doors. It was a family."
Anna Akhmatova on Osip Mandelstam
Virgil Thomson on Gertrude Stein
Jonathan Miller on Lenny Bruce
Robert Lowell on John Berryman
Stephen Spender on W. H. Auden
Mary McCarthy on Hannah Arendt
John Thompson on Robert Lowell
James Merrill on Elizabeth Bishop
Isaiah Berlin on Boris Pasternak and Anna Akhmatova
Joseph Brodsky on Nadezhda Mandelstam
Arthur Gold and Robert Fizdale on George Balanchine
John Richardson on Douglas Cooper
Hector Bianciotti on Jorge Luis Borges
Gore Vidal on Dawn Powell
Bruce Chatwin on George Ortiz
Philip Roth on Ivan Klima
Elena Bonner on Andrei Sakharov
Elizabeth Hardwick on Murray Kempton
Aileen Kelly on Isaiah Berlin
Murray Kempton on Frank Sinatra
Adam Michnik on Zbigniew Herbert
John Updike on Saul Steinberg
Jonathan Mirsky on Noel Annan
Alison Lurie on Edward Gorey
Ian Buruma on John Schlesinger
Darryl Pinckney on Elizabeth Hardwick
Colin Thubron on Patrick Leigh Fermor
Hardcover.
Product SKU:
---
Related