Free continental US shipping for all orders above $100!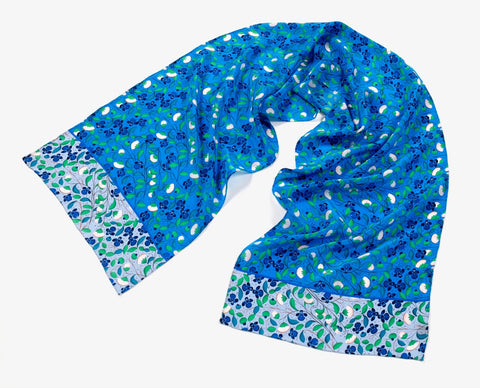 Canterbury Cathedral Silk Chiffon Scarf
The flower motifs on this beautifully made scarf are taken from 14th-century medieval French Lady's Book of Hours, housed in the Canterbury Cathedral Library. The central area of the scarf is a deep vibrant blue, and is strewn with dark purple violets, green leaves and buds, and light pink flowers, possibly dianthus; on each end is a wide border of the same blossoms on a lighter blue background.
In the language of flowers, violets represent innocence, modesty, decency, and fidelity; dianthus represent similar virtues. In Europe during the Renaissance, the faithful looked to nature for spiritual enlightenment and to guide their contemplation of the divine. In illuminated manuscripts made during the period, intricately painted flora was often represented as an aid to prayer and prized for its religious symbolism and medicinal value.
The hems of the scarf are hand rolled and sewn, not machine stitched. The colors are bright and clear but because the scarf is chiffon, have a certain transparency.  It is easily tied in a variety of ways and is large enough to wear as a light shawl.
Dimensions: 60 x 14 inches
Please note: We have limited quantities of these scarves; if you are interested, please order sooner rather than later to avoid disappointment.
Product SKU:
---
Related