Free continental US shipping for all orders above $100!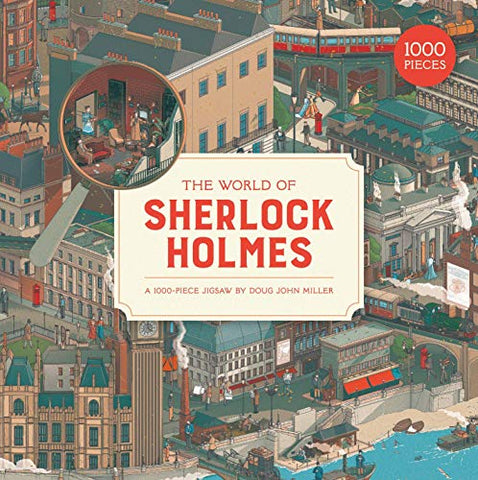 The World of Sherlock Holmes: 1,000-Piece Puzzle
Don your deer-stalker, grab your pipe, and immerse yourself in the world of Sherlock Holmes in this detailed jigsaw puzzle depicting the London of his day. As you build piece by piece, spot infamous villains, crime-solving clues, memorable characters (including the hound at Baskerville Hall to Moriarity and Dr. Watson), historical figures from the era (Arthur Conan Doyle himself, Queen Victoria, and J. M. Barrie, among others), and of course 221B Baker Street.
The puzzle was devised by Nicholas Utechin, the official historian of the Sherlock Holmes Society of London and author of numerous books on Sherlock Holmes, and illustrated by Doug John Miller, a London-based illustrator, whose drawings experiment with surreal and fantastical architecture.
Ages 10 and up.  Includes a fold-out poster that shows a picture of the completed puzzle and on the opposite side is a glossary of various scenes within the puzzle. 
The completed puzzle measures 27" x 19"
Product SKU:
---
Related