Free continental US shipping for all orders above $100!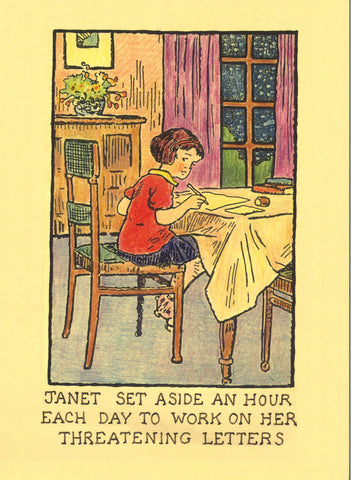 Janet All-Occasion Greeting Cards by Glen Baxter
Over four decades and a multitude of books, "Colonel" Glen Baxter has built a world and a language all his own—slightly familiar, decidedly abnormal, irresistibly funny. Baxter's drawings are a delicious stew of adventure novels, highbrow hijinks, and outright absurdity. These all-occasion cards are sure to enchant both confirmed Baxterians and those in dire need of an introduction. 
Copy on front of card: Janet set aside an hour each day to work on her threatening letters. 
8 cards and envelopes in a pack. Each card is 5" x 7" and blank inside.
"Mr. Baxter betrays all the ominous symptoms of genius."—Edward Gorey
"A kind of mad cross between Magritte, S. J. Perelman, and Pulp Fiction."—The New York Times 
Product SKU:
---
Related