Free continental US shipping for all orders above $100!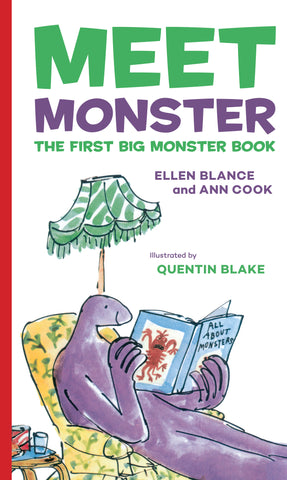 Meet Monster
Have you met Monster? He's not scary or mean like other monsters. He's kind of tall and his head is skinny, and he's purple. He's curious about everything: the city, the river, houses, cars, trains, and what people look like, the park, the kids, the swings, the stores and clothes and stuff. It is all new to him. "Monster thinks the city is fine so he thinks he will live here." So begins the story of gentle, playful Monster, who conducts himself with grace and courtesy, and in short order finds a home, a best friend, and a bunch of kids to play with.
First introduced in 1973, Monster returns in this omnibus edition of the first six stories of an extended emerging-reader series written not only for children, but also by them. Educators Ellen Blance and Ann Cook worked with schoolchildren to write stories a child would want, and be able, to read. While most children's books are meant to be read by adults to children, these are stories children can read to themselves or to adults. The book includes illustrations by the illustrious Quentin Blake.
Hardcover.
Product SKU:
---
Related