Free continental US shipping for all orders above $100!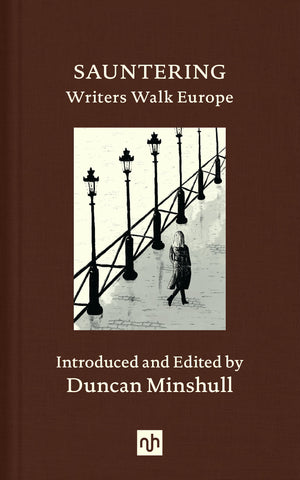 Sauntering
Edited and with an introduction by Duncan Minshull
On foot the world comes our way. We get close to the Continent's alpine ranges, arterial rivers, expansive coastlines. Close to its ancient cities and mysterious thoroughfares; and close to the walkers themselves—the Grand Tourers and explorers, strollers and saunterers, on their hikes and quests, parades and urban drifts.
Sauntering features sixty walker-writers—classic and current—who roam Europe by foot. Twenty-two countries are traversed. We join Henriette d'Angeville, the second woman to climb Mont Blanc; Nellie Bly roaming the trenches of the First World War; Werner Herzog on a personal pilgrimage through Germany; Hans Christian Andersen in quarantine; Joseph Conrad in Cracow; Rebecca Solnit reimagining change on the streets of Prague; and Robert Macfarlane dropping deep into underground Paris.
Other contributors include: Patrick Leigh Fermor, John Hillaby, Robert Walser, Joseph Roth, Joanna Kavenna, Richard Wright, Robert Antelme, George Sand, Rainer Maria Rilke, Kate Humble, Nicholas Luard, Edith Wharton, Elizabeth von Armin, D. H. Lawrence, Vernon Lee, Guy Debord, Mark Twain, Thomas Coryat, and more.
Hardcover.
Product SKU:
---
Related