Free continental US shipping for all orders above $100!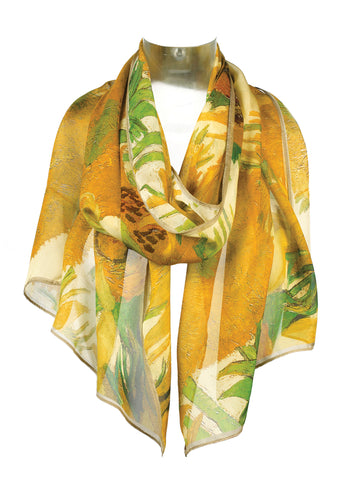 Van Gogh Sunflowers Silk Chiffon Scarf
This vibrant yellow, orange, and green scarf is inspired by Vincent van Gogh's sunflower series, a set of seven paintings made in Arles, France, between 1888 and 1889.

To Van Gogh, the sunflower (tournesol, in French, "turn to the sun") symbolized gratitude. According to the Van Gogh Museum in Amsterdam, Paul Gauguin had seen Van Gogh's earlier sunflower paintings in Paris and was impressed by them.  When Van Gogh learned that Gauguin was coming to the South of France to visit him, he painted several still lives of the flower with which he decorated the guest bedroom.  Gauguin called the paintings "completely Vincent."
The hems of the scarf are hand rolled and sewn, not machine stitched.  The colors are bright and clear but because the scarf is chiffon, have a certain transparency.  It is easily tied in a variety of ways and is large enough to wear as a light shawl.
Dimensions: 71 x 20 inches.   Dry clean only.
Product SKU:
---
Related